In geopolitical terms – the big trifecta is Afghanistan, Pakistan, and India (that's the yellow, dark-yellow, and the grey band just to the right of Iran).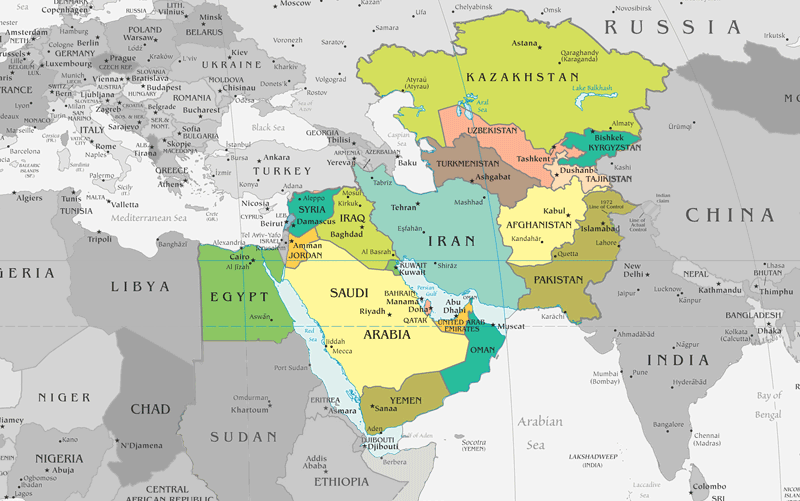 While the occasional geopolitical manoeuvres in the dark make for a great Bond movie, we have an obligation to dig a little deeper. First step on our adventure is to zoom in on the Afghan/Pakistan border where that orange band in the middle (see illustration below) is Taliban territory.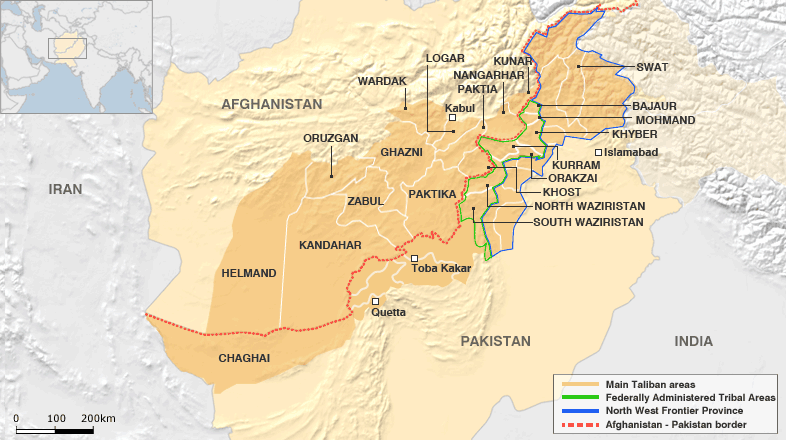 Things get more interesting when we throw in details of the ethnic, cultural, family, history, loyalty thing – and in the following map we should be cognisant of the fact that geopolitical boundaries don't take centre stage (after all – the border between Pakistan and Afghanistan was nothing more than an arbitrary 19th century British colonial construct).
Just for reference – that big brown blob in the previous illustration is the Pashtun ethnic population. The following map drills down and identifies the principal regions at ground zero.
But lets zoom out again and factor into this equation that discussion about the relationship (and/or conflict) between Afghanistan and Pakistan that is of direct interest to their neighbour Iran (the big bugger over on the left). After all, Iran has many of the same tribal problems that face the fledgling Afghanistan administration (and an outbreak of secular testosterone in Afghanistan is a potential problem in the making for Iran). Let's also take into account that big chunks of Afghanistan could be argued to be more properly part and parcel of Pakistan (which would go a long way towards explaining some of the accusations of Pakistan/Taliban loyalty). Equally, when we talk about Pakistan and India (the big bugger over on the right) there is the inevitable engagement of China (the really big bugger over on the far far right) as a player with more than a passing interest. And let's not even get into the parallel universe of the Kashmir equation.
Thing is, a failed Afghanistan state creates stress for Pakistan and stress for Pakistan creates opportunity for India, an India/Pakistan conflict plays into the hands of China, and at the end of the day a bunch of nation states (US, Britain, France, Germany, Russia, and Australia) just aren't ready for that reality just yet. But what ties this all together is that none of the players want to see a united secular solution.
And for better or worse – what if this conflict may be our best hope for peace in our time? Why? Simply because an alignment of common interests between the principal players in this equation. That the simple thing of an alignment just may be a greater good than the atrocities that have and will be committed in the sustainment of this transient moment.
Recommended Reading

Agonizing over Afghanistan
David Shribman, 31 October, 2009
Pakistan is swiftly drifting towards an all out civil war
Abdus Sattar Ghazali, 28 October, 2009